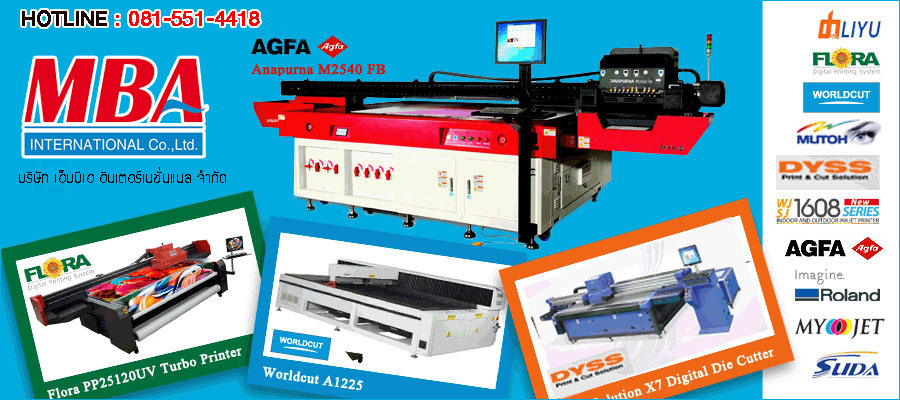 OKI Label Printer Pro1040 / Pro1050
OKI Label Printer Pro1040 / Pro1050
Digital Label Printer ระบบหมึก Toner Colour LED
เครื่องพิมพ์ฉลากลาเบลมืออาชีพแบบหน้าแคบ
พิมพ์เร็ว คมชัด ประหยัด ไร้ปัญหา ต้อง OKI
จุดเด่นคุณสมบัติ
1. มีหมึกขาว สำหรับรุ่น Pro1050 กับราคาเครื่องที่ไม่ถึงล้าน
2. หมดปัญหา ข้อจำกัด Media วัสดุหายาก
3. มีบริการ Support สำหรับงาน Pre-Dicut แบบดวงๆ ตามรูปแบบที่ลูกค้าต้องการ (สำหรับลูกค้าที่ซื้อเครื่องกับเรา)
4. เครื่องพิมพ์หน้ากว้างสูงสุด 5 นิ้ว
5. ด้วยระบบ Laser แบบ LED
เหมาะสำหรับ : งาน In house, ร้านพิมพ์ Label เพื่อ Support สินค้า SME
Innovation in label printing Colour LED Label Printer Pro1040/1050
A toner-based colour LED label printer
Label / GHS BS5609 label
・Avoid misrecognition by using colour
・Print labels for long-term storage
・Print fine detail and small text
・Excellent resistance to daylight UV
Take advantage of the OKI Colour LED Label Printer
"Save total cost of ownership with excellent print quality"
・Prints on a low-costed label media
・Easy stock management, no need for mass stock of pre-printed rolls
・Excellent for water-resistance, alcohol-resistance and scratch resistance
・Easy maintenance due to a simple internal print engine design
High-Resolution LED Printerhead
●Fine characters and micro lines in true 1,200dpi
●Smooth halftone and beautiful gradation printing
that creates breathtaking output
Product label
- Full-colour printing with vivid colours
- Wide range of media handling
- Variable printing
- Digital production
OKI's colour LED label printer provides
"Short run capability with stunning output in flexible label printing"
More options for label media
Short run and variable printing
White printing
Easy operation with colour LCD panel
- Display remaining toner amount and guide for errors
- Adjust registration, density and halftone
- Change media size and network setting
Wide range of media handling
Use with a wide choice of label media available
High resolution printing is easy on plain white, black or coloured label
media which can be paper or synthetic.
Weatherability
• No print degradation with water, oil or alcohol spills
• Less colour migration by surface scratching or exposure to sunlight
Suitable for labels that need to be resistant to sunlight, and not easily
damaged by scratches or liquids.
CMYK+Spot Colour White
Creates highly customised labels withstunning output
Applies White toner under CMYK or alone on coloured or transparent
media to produce results that really stand out!
Specification
Colour Options : Pro1040 (CMYK) & Pro1050 (CMYK + W)
Media Type : Plain Paper, Film, Plain Paper Label, Glossy Paper Label, Synthetic Film Label, Film label (PET)
Media Width : Roll Paper: 25.4mm (1.0") - 130mm (5.1") including liner
Media Thickness : 0.076 - 0.250mm
Label Length : 12.7mm (0.5") - 1320.8mm (52")
Print Width : 21.16mm(0.83") - 125.76(4.95")
Media Detection : Black Mark (printed on back of liner), Gap, None
Media Format : Roll
Roll Outer Diameter / Core Inner Diameter : Max. Ф203.2mm (Φ8") / Ф76.2mm (Φ3")
Roll Wind Direction : Face-out, Face-in
Minimum Print Margin : Top: 2.12mm, Bottom: 2.12mm, Right: 2.12mm, Left: 2.12mm
Print Position Accuracy / Cut Accuracy : Vertical: ±0.5mm, Horizontal: ±0.5mm / Vertical: ±0.5mm
Cuttable Media Length : Min. 101.6mm
Print Resolution : 1200 x 1200 dpi, 600 x 600 dpi
Print Speed : Max. 152.4mm/s (6ips)
Interface : 1000BASE-T/100BASE-T/10BASE-T, Hi-speed USB2.0
Protocol : TCP/IP, NBT,IEEE802.1X
Printer Language : Adobe PostScript 3, PCL 5c emulation, PCL 6 (XL) emulation
Supported OS : Windows 10, Windows Server 2012 R2, Windows Server 2012, Windows Server 2008 R2,
Windows Server 2008, Windows Server 2008 x64, Windows 10 x64, Windows 8.1, Windows 8.1 x64,
Windows Server 2016, Windows 8, Windows 8 x64, Windows 7, Windows 7 x64
Processor Speed : ARM 1.2 GHZ
Memory (Std./Max) : 2 GB / 2 GB
Hard Disk Drive : 250 GB
ตัวอย่างงานพิมพ์ฉลากลาเบล
A new era in flexible label printing
The Pro Series Label Printer takes creativity and flexibility
to a new level, offering professional four (Pro1040) and
five-colour (Pro1050) narrow-format printing across a
range of materials. Launching on-demand, short-run
colour label printing services opens the door to a new
customer base, as well as a lucrative revenue stream.
สามารถติดได้ที่
สามารถติดได้ที่ ลุงหอยพารวย 081-551-4418 , พริกเกลือ 090-092-4646, ป๊อบ 090-951-9747