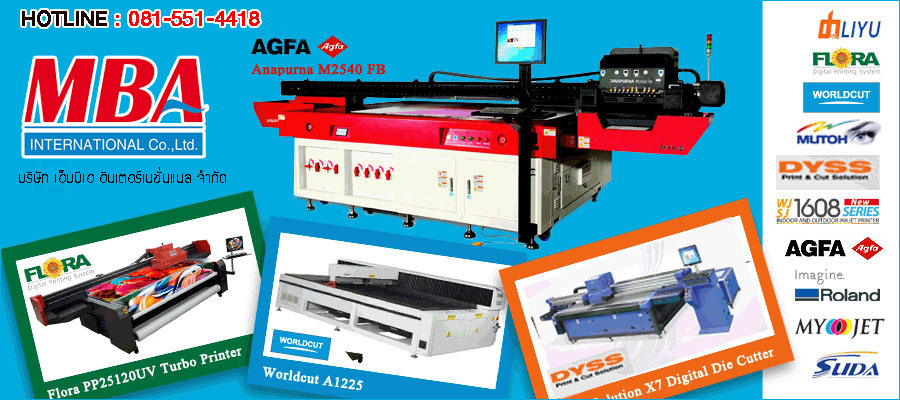 Anapurna M2540 FB
:ANAPURN A M2540 FB
© Copyright 2011 by Agfa Graphics NV. All rights reserved.
AGFA and the Agfa rhombus are trademarks of Agfa-Gevaert NV & Co KG
All other trademarks are recognized.
All product specifications are subject to change without prior notice.
GB NGVE7 092011
POSITIONING
• Perfect fit for Digital Printers, Photo shops and
Mid-Size Graphic Screen printers
• Heavy-duty, turnkey and complete industrial
UV inkjet system
• Excellent solids and signs in 8 pass printing
DESIGN CONCEPT
• Robustly Engineered - Professional
- Flatbed UV Wide Format Printer
• Includes all necessary components like 2 vacuum
ring-blowers, shuttle safety sensors, ionizer
elements.
ENGINE FEATURES
• Reinforced beam
• Automated Media registration pins
7 horizontal / 2 vertical
• 2 separate controlable vacuum tables with each
4 vacuum compartments (total 8 zones)
• 2 x 1,5kW ring blowers ring blower for strong
vacuum situated in the engine for less noise
• Powerful fastcan motor
• Automatic control of vacuum strength
(inverter based)
• Ionisation bar mounted on each side of carriage to
remove electrostatic load on media
• Shuttle safety sensors on each side of the carriage
• Network and USB (2) connection
• Build-in printer controller
• Vacuum table with almost 11.000 vacuum holes
Air lifting: reversible vacuum to easily remove
large media
APPLICATIONS
• Banners, Posters, Exhibition graphics, POP,
Mock-ups, Backlit, Frontlit, Self adhesives (Labels)
• Niche application: DVD printing, wood,
Art reproductions, personalised object printing
(mouse mats), …
• Party gadgets (beer coasters, …)
• Architectural and Interior decoration,
Ceramics printing
SUBSTRATE FLEXIBILITY
• Media: 256x154 cm
print size: 254 x 154 cm
• Flexible media 2515 x 1505 mm
• Borderless Printing:
Rigid media 2535 x 1535 mm
Multiple board printing
• Media thickness up to 45 mm
• Media weight up to 80 kg
COLOR GAMUT
• Capable of reproducing ISO 12647.2 in Poster
(4pass Double Strike) and Photo (8 pass)
TEXT QUALITY
• Positive: 4 point
• Negative: 6 point
IMAGE QUALITY
• 4 pass bi-directional: poster quality mode for
images and text.
• 8 pass uni-directional: photo highest quality mode
for vector, signs, solids, images and text
• Uniform gloss
• Express Mode
Fastest printing mode for draft & layout jobs.
45 m²/h
• Production Mode
High productivity at an acceptable quality level.
26 - 28 m²/h
• Poster Mode
Best balance between speed & quality.
15 - 17 m²/h
• Photo Mode
For that extra bit of quality.
8 m²/h
BORDERLESS AND DUAL BOARD PRINTING
INKS
6 :Anapurna M G2 UV curable inks (CMYKLcLm)
1 :Anapurna (G3) white ink
HEADS
• 6 Konica-Minolta: 1024 nozzles/head with a
droplet volume of 12pl (colours)
• 2 Konica-Minolta: 42pl (white in line)
ENGINE DIMENSIONS
4950 (w) x 1600 (h) x 2600(d)
WEIGHT
1866 kg
ELECTRICITY
• 380V - 415 V 3-phase star connection
with Neutral wire (3x 30A*)
• 208V - 240V 3-phase delta connection
without Neutral wire (3x 30A*)
SYSTEM INTEGRATION
RIP
• Wasatch SoftRIP Agfa Edition
• Ready to use :Anapurna M2540 media/ink profiles
available from reseller partner
รายละเอียดเพิ่มเติม : คลิก
สนใจติดต่อสอบถามเกี่ยวกับเครื่องพิมพ์
สามารถติดได้ที่
ลุงหอยพารวย 081-551-4418

หรือกรอกแบบฟอร์มข้างล่างนี้เพื่อให้ติดต่อกลับ